Een ontevreden klant vertelt tussen 9-15 mensen over zijn negatieve ervaring met een bedrijf
Er zijn gemiddeld 12 positieve ervaringen nodig om één onopgeloste negatieve ervaring goed te maken
Klanten die uw bedrijf een 5-sterrenbeoordeling geven op een schaal van 1 tot 5, zijn 6x meer geneigd om weer bij u te kopen
Dit betekent dat er voor bedrijven veel op het spel staat als het gaat om klantentevredenheid en klantentevredenheidsenquêtes zijn één van de meest effectieve manieren om erachter te komen hoe uw klanten over uw bedrijf denken. Enquêtes helpen ook bepalen wat werkt en wat niet en wat u moet verbeteren zodat u uw klanten een betere ervaring kunt bieden.
Wat zijn klantentevredenheidsenquêtes?
Klantentevredenheidsenquêtes zijn vragenlijsten die zijn ontworpen om bedrijven te helpen begrijpen hoe tevreden hun klanten zijn over hun producten, diensten, persoonlijke ervaringen, merkimago of klantenondersteuning. Het algemene doel van klantentevredenheidsonderzoeken is om te beoordelen hoe tevreden of ontevreden uw klanten zijn over verschillende aspecten van uw producten, diensten of processen.
Klantentevredenheidsenquêtes kunnen verschillende soorten vragen omvatten, zoals meerkeuzevragen (vragen met beoordelingsschaal, binaire schaal 'ja of nee'-vragen, nominale vragen, Likert-schaalvragen, semantische differentiële vragen) en open vragen of een combinatie van de hierboven genoemde vragen.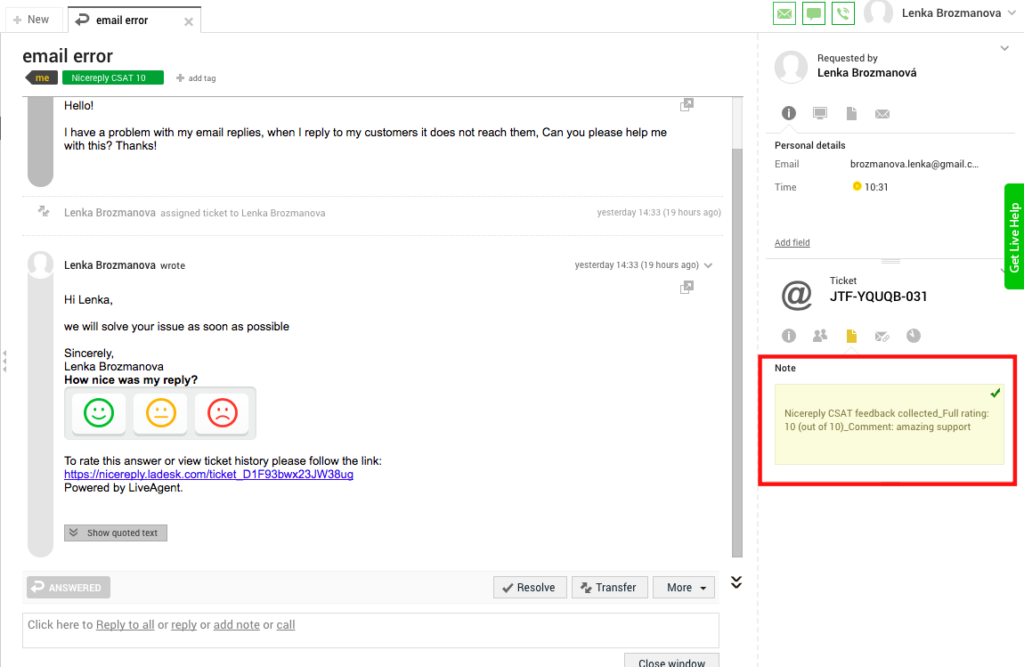 Goede praktijken voor klantentevredenheidsenquêtes
Houd het kort: enquêtes met 1-3 vragen hebben het hoogste gemiddelde voltooiingspercentage (83,34%)

Stel vragen met een duidelijk omschreven doel en een sterk argument om erbij te horen

 

Stel geen dubbele vragen die betrekking hebben op meer dan één probleem

Gebruik geen intern jargon of vakjargon dat voor respondenten verwarrend kan zijn

Maak gebruik van ja of nee-vragen bij het stellen van een vraag met een eenvoudige uitkomst

Sta open tekstfeedback toe – u zou nieuwe inzichten kunnen ontdekken die u niet had verwacht

Zorg ervoor dat uw enquête is geoptimaliseerd voor mobiele apparaten.

Bepaal de beste distributiemethoden voor enquêtes voor uw bedrijf (emails, pop-ups op de pagina, feedbackwidgets, enz.)

Bedenk een ideaal moment om uw enquêtes in verschillende stadia van de klantenlevenscyclus te verspreiden

Bied enquêterespondenten een bonus (als het zinvol is) – onderzoeken hebben aangetoond dat stimulansen de respons op enquêtes met 5% tot 20% kunnen verhogen.

Bedank klanten voor hun feedback, ongeacht de aard van de feedback
Vragen over klantentevredenheidsenquêtes
Om waardevolle feedback van uw klanten te krijgen, moet u hen de juiste vragen stellen. Hieronder staan ​​enkele van de meest voorkomende vragen over klantentevredenheidsenquêtes (zowel algemeen als productspecifiek) die u kunt gebruiken bij het maken van uw eigen CSAT-enquêtes.
Algemene vragen voor enquêtes over klantenfeedback
Vragen voor enquêtes over SaaS-productfeedback
Vragen voor enquêtes over klantenervaringen
Vragen voor enquêtes over klantenservice
Vragen over enquêtes over feedback op de website
Discover our award winning help desk software complete with native live chat, call center, and social integrations.
Tired of using multiple tools and sorting through tickets
manually? Put an end to it with LiveAgent!
Free trial