Er zijn verschillende scenario's waarin een bedrijf zijn klanten of gebruikers een email moet sturen om hen informatie te verstrekken zonder dat het bijzondere reclame is. De meest voorkomende voorbeelden van informatieve emails zijn korte nieuwsberichten over veranderingen in de toekomstige bedrijfsrichting of het management, enz.
Informatieve emails kunnen ook gaan over wijzigingen in algemene voorwaarden of andere juridische overeenkomsten, maar ook over verklaringen om abonnees gerust te stellen in het licht van de huidige ontwikkelingen in de sector of wereldwijde evenementen. Dit soort berichten is de afgelopen jaren bijzonder gebruikelijk geweest, waarbij de Algemene Verordening Gegevensbescherming (AVG) van de EU heeft geleid tot talloze emails over wijzigingen in het privacybeleid die in onze inbox terechtkomen. Meer recentelijk heeft de huidige pandemie van het coronavirus ertoe geleid dat veel merken hun klanten voortdurend via email op de hoogte hebben gebracht van hoe ze zich aanpassen aan de steeds veranderende situatie.
Andere soorten informatieve emails zijn enquêtes die naar klanten worden gestuurd om hen te informeren over de mogelijkheid om deel te nemen aan een vragenlijst of een uitnodiging om hen op de hoogte te stellen van een bedrijfsevenement dat in de nabije toekomst zal plaatsvinden. De afzender hoopt op zijn beurt feedback te ontvangen over een product/dienst, of een reactie op de geplande aanwezigheid van de ontvanger.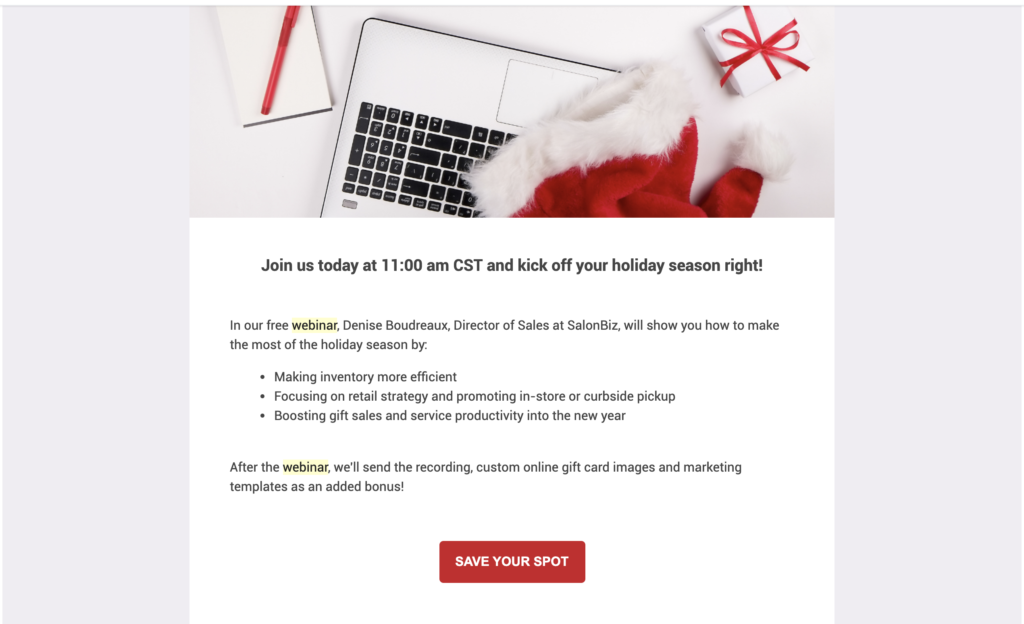 Ten slotte informeren wervingsemails gebruikers dat ze zich met succes hebben aangemeld voor een account of zich hebben aangemeld om nieuwsbriefinhoud te ontvangen. Terugwinningsberichten informeren bestaande klanten dat ze een tijdje niet hebben gewinkeld en dat ze uit de bedrijfsdatabank kunnen worden verwijderd als ze inactief blijven. Deze twee soorten informatieve emails zijn iets meer promotioneel dan de andere die zijn genoemd omdat ze vaak call-to-action (CTA's) bevatten of kortingen aanbieden als beloning.
Door informatieve emails te sturen, kunt u uw bestaande en potentiële klanten bereiken om hen op de hoogte te stellen van specifieke nieuwsberichten die ze moeten lezen of waarvan u denkt dat ze ze nuttig zullen vinden. In dit artikel zijn verschillende voorbeelden van dergelijke berichten verzameld, met voorgestelde onderwerpregels als bonus.
Wat zijn emailsjablonen?
Emailsjablonen zijn berichtkaders die u als uitgangspunt kunt gebruiken om uw eigen exemplaar te schrijven (door simpelweg de voorgestelde tekst te wijzigen met uw eigen tekst). Met emailsjablonen kunt u moeiteloos emails schrijven – voeg eenvoudig afbeeldingen of andere inhoud in en wijzig de stijl passend bij de persona van uw merk.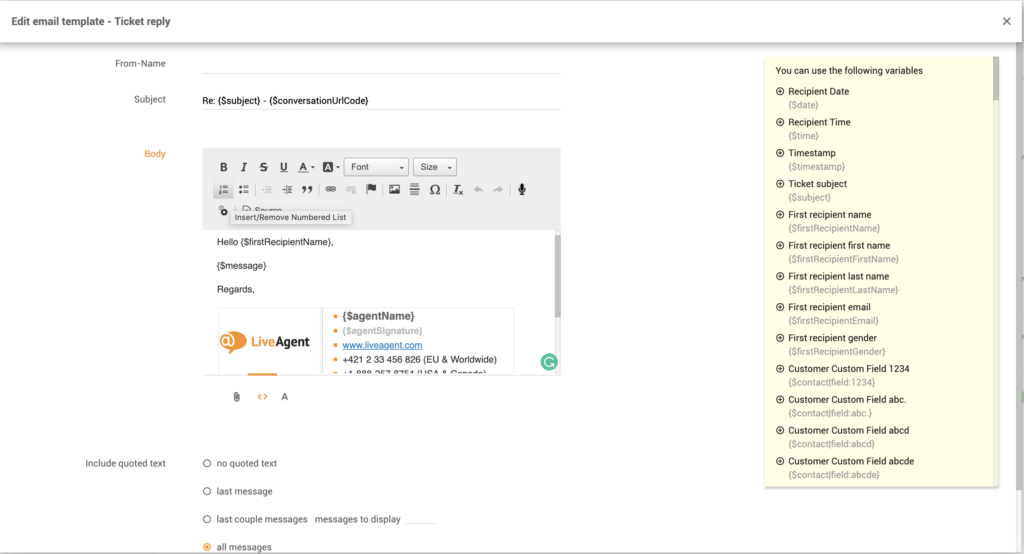 Algemene tips voor het schrijven van betere informatieve emails
Houd het kort en informatief
Informatieve emails worden niet zonder reden 'informatief' genoemd. Hun belangrijkste doel is om de ontvanger te informeren over een bepaalde actie en hoewel creatief zijn altijd een goede zaak is, moet u zichzelf op dit punt niet te geheimzinnig, onduidelijk of mysterieus laten zijn. Tijd is geld, niet alleen voor u, maar ook voor uw emailontvangers.
Als er een patroon is dat u volgt in uw informatieve emails, verander dit dan niet abrupt. Uw publiek is misschien gewend om bepaalde elementen in uw emails te zien, inclusief onderwerpregels, de lay-out of zelfs het tijdstip waarop u uw emails verstuurt. Zorg er in wezen voor dat uw klanten uw emails niet verwarren met die van een ander merk. Verstuur ook uw informatieve emails alleen als het echt nodig is. Gebruik deze optie niet te veel en overstelp de inbox van uw klanten niet met emails, tenzij het echt dringend is.
Over uw emaillay-out gesproken: zorg ervoor dat uw email correct is opgemaakt. Het is waarschijnlijk dat veel ontvangers het niet allemaal zullen lezen – ze beoordelen de inhoud op onderwerpregels, vetgedrukte uitspraken of opsommingstekens. Uw opmaak moet voor zichzelf spreken, direct ter zake zijn en een gepaste toon hebben. Als er bijvoorbeeld iets onaangenaams te melden is, is het waarschijnlijk niet het beste idee om uw inhoud te overdrijven met emoji's of uitroeptekens die alleen maar gevoelens van teleurstelling of woede versterken. Aan de andere kant, als er iets positiefs te melden is, wilt u uw email misschien beginnen met een aangename begroeting.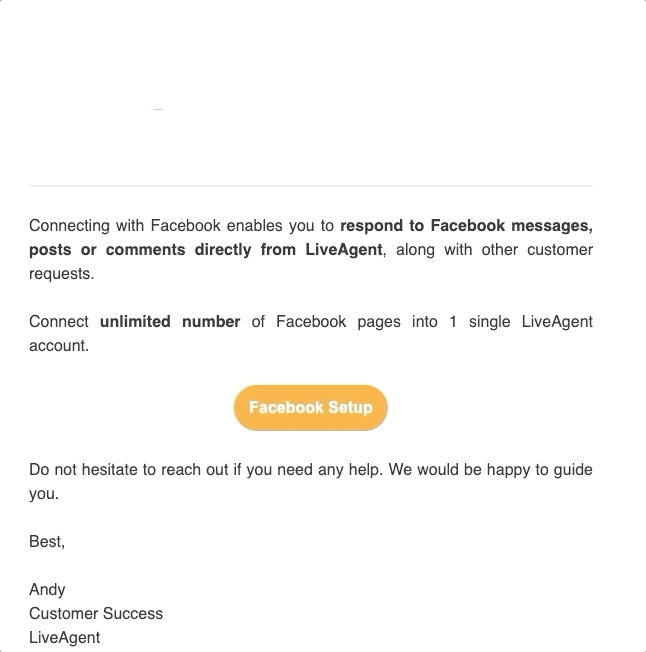 Voorbeelden van informatieve onderwerpregels van email
Hieronder staan ​​enkele voorbeelden van onderwerpregels voor informatieve emails:
Onderwerpregels van email met aankondiging van bedrijf
Aankondiging van promotie – [naam van werknemer]
Felicitaties aan [naam medewerker] voor hun promotie
Vacature voor de functie van [functietitel]
We werven intern – solliciteer voor de rol van [functietitel]
Nieuw personeelslid – [naam nieuwe medewerker] in de functie van [functietitel]
Verwelkom [naam nieuwe medewerker] in het team
[Reden voor vergadering] Open personeelsvergadering op [datum] om [tijd]

Herinnering: open vergadering morgen om [tijd] voor alle [afdeling] medewerkers
Onderwerpregels voor emailsamenvatting
[Bedrijfsnaam] Update [maand] [jaar]
Alles wat u misschien hebt gemist [vandaag/deze week/deze maand]
We zijn druk bezig geweest met het aanbrengen van enkele wijzigingen …
Een samenvatting van de recente updates van [bedrijf]
Uw [dagelijkse/wekelijkse/maandelijkse] [activiteit] samenvatting
Hier is hoe het met u ging [vandaag/deze week/deze maand]
Gefeliciteerd! U stond in de top [X]% van [activiteit] voor [vandaag/deze week/deze maand]
Wilt u weten hoe het met anderen gaat?
Informatieve onderwerpregels voor email
Een opmerking voor de gewaardeerde leden van de [merk/product/dienst] gemeenschap
Maak u geen zorgen, we staan ​​voor u klaar
Hier is hoe [bedrijf] helpt in tijden van nood
Wat we doen om door te gaan zoals normaal
Kijken naar de toekomst …

Dit is waar [bedrijfsnaam] naartoe gaat. Komt u met ons mee?
Onderwerpregels van email om de juridische overeenkomst te wijzigen
Update van de algemene voorwaarden voor [bedrijf] voor [abonnement]
Uw [abonnement] Algemene voorwaarden veranderen
Wijzigingen in het privacybeleid bij [bedrijf]
Het zijn uw gegevens, dus u heeft de controle.
We updaten ons Fair Usage-beleid
Het beleid voor acceptabel gebruik van [bedrijf] verandert. Dit is wat u moet weten.
We brengen wijzigingen aan om te voldoen aan de nieuwe AVG-richtlijnen
Gewoon weer een AVG email …
Onderwerpregels van email voor enquête
Bespaar [X]% op uw volgende aankoop door uw feedback te delen
Meer dan een cent voor uw gedachten
Help ons [product/dienst] te verbeteren door een simpele vraag te beantwoorden
Een minuut van uw tijd is alles wat we nodig hebben om uw mening te vernemen
Vertel ons wat u echt van [product/service] vindt
We zouden uw hulp geweldig vinden! Beantwoord alstublieft een paar korte vragen
Uw feedback werd echt op prijs gesteld en hier is waarom
De resultaten zijn in …
Onderwerpregels van RSVP email
Bezoek ons ​​op de komende [bedrijf] [conferentie/webinar]!
Mis het niet, RSVP voor ons [onderwerp] evenement nu
Tot ziens bij de [naam van het evenement] volgende [week/maand]?
Iedereen heeft het over de [naam] onderscheidingen …
Markeer uw agenda voor het teambuildingevenement van [bedrijf]
U bent uitgenodigd voor een leuke [ochtend/middag/dag] vrij op uw werk!
Onderwerpregels voor wervingsemail
Bedankt voor het aanmelden voor [inhoud]
Succes! U hoort binnenkort van ons
Nog steeds geïnteresseerd om van ons te horen? Dit is wat we te bieden hebben …
Een kort advies voor onze actieve abonnees
We hebben uw bericht op [sociaal media platform] gezien en willen u helpen
Nu we uw vraag op [sociaal media platform] hebben beantwoord, vragen we u om u aan te melden?
Onderwerpregels van terugwinningsemails
Het is een tijd geleden! Winkel weer bij ons voor [X]% korting op alles
Waar was u? We missen u! Kom terug naar [bedrijf] met deze geweldige deal
Hier zijn [X] redenen waarom u nog steeds bij ons zou moeten winkelen
Iedereen bij [bedrijf] mist u! Hier zijn de belangrijkste [X] redenen om op onze mailinglijst te blijven
Laat het ons weten als u nog steeds van ons wilt horen …
Uit elkaar gaan is moeilijk, maar het is nog niet te laat om dingen goed te maken!
Ideeën voor informatieve emailsjablonen
Emailsjablonen voor bedrijfsaankondigingen
Emailsjabloon voor bedrijfsaankondiging 1 – aankondiging van promotie
---
Emailsjabloon voor bedrijfsaankondiging 2 – interne werving
---
Emailsjabloon voor bedrijfsaankondiging 3 – introductie van nieuwe werknemers
---
Emailsjabloon voor bedrijfsaankondiging 4 – open uitnodiging voor vergadering
---
Samenvattingssjablonen voor email
Samenvattingssjabloon voor email 1 – bedrijfsprestaties
---
Samenvattingssjabloon voor email 2 – bedrijfsupdate
---
Samenvattingssjabloon voor email 3 – activiteitenoverzicht
---
Samenvattingssjabloon voor email 4 – vergelijking met anderen
---
Informatieve emailsjablonen
Informatief emailsjabloon 1 – verklaring die geruststelling geeft
---
Informatief emailsjabloon 2 – voor een update in tijden van crisis
---
Informatief emailsjabloon 3 – korte bedrijfsverklaring
---
Emailsjablonen voor het wijzigen van een juridische overeenkomst
Emailsjabloon voor wijziging van juridische overeenkomst 1 – wijzigingen in algemene voorwaarden
---
Emailsjabloon voor wijziging van juridische overeenkomst 2 – update privacybeleid
---
Emailsjabloon voor wijziging van juridische overeenkomst 2 – update van acceptabel gebruiksbeleid
---
Emailsjablonen voor enquêtes
Emailsjabloon voor enquêtes 1 – een stimulans aanbieden
---
Emailsjabloon voor enquêtes 2 – enkele vraag ingesloten in de email
Emailsjabloon voor enquêtes 3 – product/dienst review
Emailsjabloon voor enquêtes 4 – resultaten van de vragenlijst  
RSVP emailsjabloon 1 – uitnodiging voor conferentie/webinar
---
RSVP emailsjabloon 2 – uitnodiging voor een evenement voor onderscheidingen
---
RSVP emailsjabloon 3 – uitnodiging voor een teambuildingevenement
---
Emailsjablonen voor werving
Emailsjabloon voor werving 1 – abonnementsbevestiging
---
Emailsjabloon voor werving 2 – databank consolidatie en bruikbaar advies
---
Emailsjablonen om klanten terug te winnen
Emailsjabloon om klanten terug te winnen 1 – een korting aanbieden
---
Emailsjabloon om klanten terug te winnen 2 – informeren over redenen om te blijven  
Emailsjabloon om klanten terug te winnen 3 – verwijdering van de abonnementslijst
Free 14-day trial. No credit card required. Sign up today!
Send out informational email campaigns with confidence. Save our templates, customize them, and watch your email engagement rise.
Free Trial